What are some care home activity ideas?
There are many different care home activities that can provide entertainment and happiness. The interactive projector, a part of the Happiness Programme, uses interactive light technology to provide a sensory experience for those who use it. It's a specialist piece of equipment designed to bring joy and happiness and is proven to have a hugely positive impact on those that use it.
Jess, Activities Coordinator at Green Tree Court Care Home, spoke to us about how life changing the Happiness Programme has been for both residents and care staff.
At Green Tree Court, they use the Happiness Programme every day. When not being used as directly part of an activity the table is set up in the main lounge, where residents can interact as and when they choose.  
When doing group activities, Jess says herself and Jodie, Activities Assistant, try to have it on a relevant game, so that people at all stages of dementia, regardless of mobility or dexterity, are able to join in meaningfully. An example Jess gave was when residents are doing water colour painting activities, they will also have the painting game on the Happiness Programme, helping to avoid feelings of isolation for residents who don't have the dexterity to take part in the water colouring.  
They also use the Happiness Programme for individual wellbeing sessions they run with residents who are bed bound, as they can use it in different rooms and on different surfaces.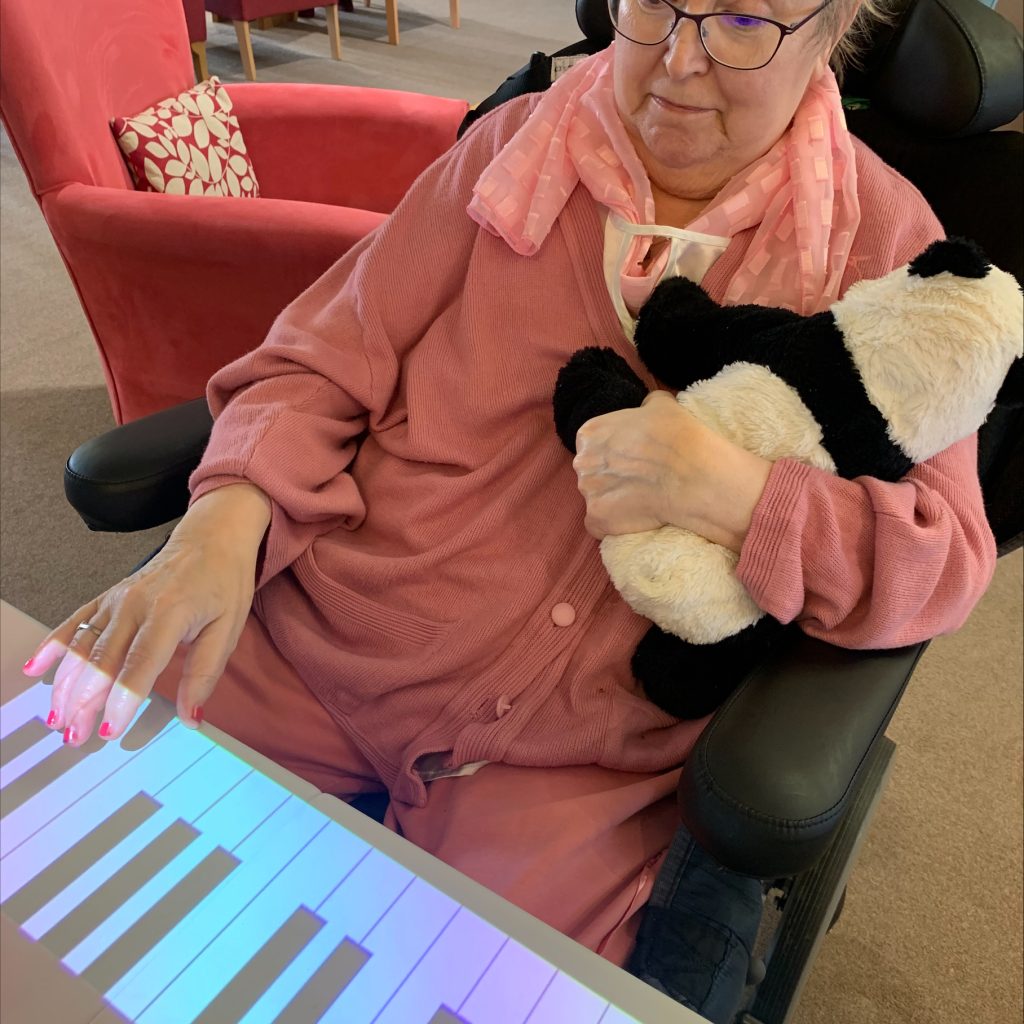 "Offering a variety of meaningful activities for our residents."
The most popular game at Green Tree Court is the air hockey, Jess told us. For one gentleman who doesn't often interact with activities, the air hockey game is something he really enjoys playing with members of staff, and he plays for a good half an hour.
The calming activities, like the leaves, balloon pop and fish are great for using with people living with later stage dementia. Jess says specifically for two residents, you can see they're interested and stimulated by the sensory experience, often reaching out to touch the projection and using the props. She says it's great, as it's something they can dip in and out of rather than requiring full attention. It also is calming for residents if they become agitated because of the dementia, and provides a meaningful distraction.
There is also a lady who is very musical and loves to play piano; the piano game is great for her, because it allows her to enjoy playing as she used to, utilising the technology to its best advantage. 
"A brilliant piece of technology, a brilliant addition to the home."
Jess told us how important it is for her as the Activities Coordinator at Green Tree Court to produce meaningful activities for residents. She said how when working at a home that offers residence and support to a range of people with varying needs, trying to offer and accommodate meaningful activities for everyone can be challenging, but what has been so great about the Happiness Programme is that there's always something on offer for people who either don't want to or cannot take part in all activities.
"It's an easy-to-use tool."
She also told us how great the Happiness Programme is when the activities team aren't there, as some carers have also been trained to use it. The home upholds the ethos that activities shouldn't stop when the activities team aren't there; as the Happiness Programme doesn't require a lot of time or effort to unpack or understand, it offers a great option for carers to interact with a stimulate residents, in the absence of the activities team.  Jess says this gives her peace of mind, as she knows she's leaving other staff with meaningful activities to be utilised.
 "It doesn't feel like the Happiness Programme was dumped on us and abandoned"
Jess also commented on the support she gets from the service team if there is a technical issue she needs help with. She said she has always felt supported by our team and doesn't feel like they were given the Happiness Programme and abandoned, with no other support.
She said how great the Happiness Hub portal is, and that it's easy to access. Jess speaks highly of the online training, saying it gives helpful and practical tips on how the table can be used, which can then be shared with carers and family members. She said it has been great to see family members be able to use the Happiness Programme with loved ones, as something they can do together when they visit. 
"Carers have been able to access meaningful and convenient activities."
Jess also wanted to mention how great the staff and managers have been at Green Tree Court. She said although the home always has had a good ethos towards activities, the way the staff have been so enthusiastic about the Happiness Programme and had such a good attitude towards the technology has enabled her to further provide meaningful activities for residents.
Subscribe and join other leading care organisations in the UK
Copyright © 2021 Social-ability. All Rights Reserved.